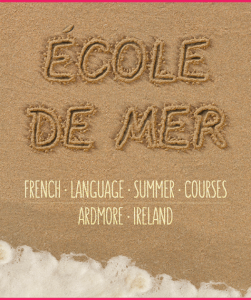 Ecole de Mer & Ecole De Mer Online Courses.
At Ecole De Mer, we offer residential French Language Summer Courses for 1st and 2nd year students. During our week-long courses, our students combine intensive 22 hours of French language tuition with afternoons packed with exciting water sports and other activities.
During the week in Ecole De Mer French Language Summer Course your child will make new friends, develop independence and leadership qualities and learn to try new things with our adventurous and group-based activities.
Ecole De Mer is set in a stunning beachfront property in the breath-taking location of Ardmore, Co. Waterford. To ensure that each student of Ecole De Mer benefits fully from their time at the course, our residential places are strictly limited to 20 places per course, 10 boys and 10 girls. The outstanding quality of our classes, activities, accommodation and food make us a unique language learning experience. While the course is mixed, boys and girls have separate sleeping quarters with 24/7 supervision. Our supervision ratio of student to staff is 5:1 day and night. For water sports, our instructor to pupil ratio is 8:1.
To allow our students to continue to build on the strong French foundations built with us in Summer, Ecole de Mer Online Courses is offering our membership of our weekly French language lessons. Our students will have access to the best notes, great videos and a weekly online class. All course materials and classes are provided by Patricia McGrath, using the latest technology to help you continue to learn French easily and effectively.
Prepare for your French examination with our teaching team at *ECOLE DE MER*. Our teachers write your school textbooks, correct your state examination papers and advise academic publishing companies.