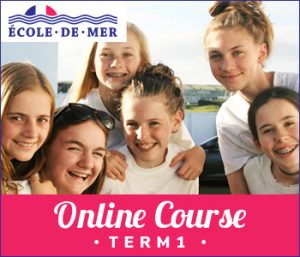 Course Includes
12 EDM Videos On-demand

12 PDFs Handouts

Homework, quizzes & tests!
ECOLE DE MER ONLINE LESSONS TERM 1
Finally! We are ready to launch our weekly online lessons for our Ecole de Mer members.
What material will the lessons cover?
In our weekly online lessons, we plan to continue where we left off at Ecole de Mer!
Our weekly lessons will be focussed on preparation for Junior Certificate French. We will be practicing reading comprehension, (worth 31% of overall mark), listening comprehension (44%) and covering postcards, letters, notes and messages for the written section (25%) of the examination.
Our videos vary from week to week, but our focus continues to be the Junior Certificate French course. We will be bringing you videos and notes on postcards, letters and diary entries for the written section. We will also be doing lots of exercises for both the reading and listening comprehension sections of the exam paper. In fact, our Examcast videos plan to take over from where we left off at Ecole de Mer!
Also, we have some bonus videos planned to surprise you along the way!
COURSE PRICE
Access to our lessons costs just €95 per term – less than €9 per lesson! There will be three terms of lessons between now and June, 2018. That's a total of 35 lessons in all! We will also be adding some surprise bonus lessons for our members.
Our introductory lesson is complimentary for all of our students. We want to let you see what we have lined up for you for the remainder of the academic year.
Unlimited access to lessons will be active until June, 2018.
What if I decide to subscribe to one term of lessons?
If you decide to subscribe to just one or two terms, you will have unlimited access to those lessons until June, 2018.
If I decide to subscribe, what will I get?
Each week, you will receive an Examcast video and a set of accompanying notes to download. We have recorded the Examcast lessons as if you were still in the classroom with us, so don't forget to have your vocab and letter copies to hand!
When are the lessons available to watch?
Our video lessons go live every Sunday at 15.00 GMT time (times will differ depending on your location) – so you can plan and organise your week to slot in your Ecole de Mer French video lesson at a time that suits you.
How long will the lessons take?
Each lesson will last between 30 and 40 minutes, depending on the topic covered. You can also pause the lesson if needed, or watch it as many times as you like, whenever you like, once you are online.
Will I get notes?
Each lesson will be accompanied by a PDF handout, which you download and print to use with the Examcast video. Your notes will consist of sample answers for postcards, letters, notes and messages, practice reading passages and listening comprehensions. And of course, each week, you will be learning lots of new material that you can continue to add to your vocab and letters copy that you started at Ecole de Mer!
Schedule of lessons
Leçon 1 | 17.09.17
Leçon 2 | 24.09.17
Leçon 3 | 01.10.17
Leçon 4 | 08.10.17
Leçon 5 | 15.10.17
Leçon 6 | 22.10.17
Leçon 7 | 29.10.17
Leçon 8 | 05.11.17
Leçon 9 | 12.11.17
Leçon 10 | 19.11.17
Leçon 11 | 26.11.17
Leçon 12 | 03.12.17
MOBILE ACCESS
Course is designed to be accessible on most recent IOS & Android mobile devices, laptops and PCs. For more information please read Terms & Conditions.
TERMS OF USE
Please read Terms & Conditions here. By enrolling on this course, you agree that you have read, understand and you agree to these terms.