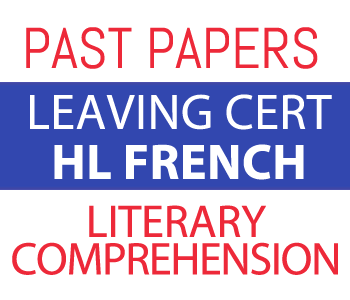 Course Includes
LEAVING CERTIFICATE HL FRENCH PAST PAPERS LITERARY COMPREHENSION Our Leaving Certificate French Easter Revision Course is, simply, the best language learning tool available !
WHAT WILL YOU LEARN?
There are three examination components. In late March or early April, you will sit the oral examination. This exam normally takes 12 minutes, and, worth 100 marks, the oral is allocated 25% of your overall mark.
On the day of the French exam in June, you will be sitting two papers. First, you will do your written paper, worth 220 marks | 55% of the total exam. There are two sections to this paper, the first of which is the Compréhension Écrite worth 120 marks | 30% of the total paper. The second section is the Production Écrite and is worth 100 marks | 25% of the total paper.
The Compréhension Écrite  120 marks | 30%
This section involves the reading and comprehension of two texts; a journalistic piece and a literary piece. The journalistic piece is usually the first question and is laid out in three columns on the exam paper. The source of this text is usually a popular French publication or newspaper.
The literary piece is usually laid out in two columns. This extract is generally taken from the work of highly regarded French writers, some of whom have received literary prizes.
How to Improve your French Reading Comprehension
1. Practice, practice, practice!
Practice using the past examinations papers. In addition to the reading comprehensions that you will find in your copy of the French examination papers, the SEC has practice comprehensions available all the way back to 1996! These texts are not as outdated as we might imagine and are still great practice for examination papers.
2. Listen, listen, listen!
Our course allows you to improve your reading comprehension while listening to th comprehension pieces as read by a native speaker.
3. Build your vocabulary.
You don't have to understand every single word when you read French comprehensions. Sometimes, the context of the sentence can help you to decipher the meaning of a particular word. However, reading presents an opportunity to identify, learn and retain new vocabulary and it is important to understand those words that are key to the overall content. Our courses allow you to access the meaning of the words without spending hours looking up your dictionary to discover the meanings!
4. Take notes of new vocabulary
As our course allows you to quickly cover lots of exam material, you will soon see the words that frequently occur, not just in Leaving Certificate texts, but all texts. Make a note of these as you watch, listen and learn.
5. Practice every day.
As with acquiring any new examination skill, improving your French comprehension takes discipline. And practice. Set aside twenty-five minutes every day – in the morning when you first wake up, in bed before you go to sleep at night, during your daily commute (unless you are driving!) to do one of our guided comprehensions in French. With some consistent effort each day, you'll soon be a mordure de lecture (bookworm)!
Bonus benefit!
While you are watching and reading our videos, you will also hear the text read by a native French speaker. This will really help to hone your pronunciation, helping to im0prove your oral French – worth 25% of your mark, and of course, your listening comprehension, worth a further 20%!
This course will help you to make progress on 75% of your overall French exam.
Bonne lecture!
DOWNLOADABLE PDF
When you buy an Examcast course, you will immediately receive an email containing the download links for your PDF notes.
PDFs are also available from the downloads section under *My Account*.
MOBILE ACCESS
Course is designed to be accessible on most recent IOS & Android mobile devices, laptops and PCs. For more information please read Terms & Conditions.
TERMS OF USE
Please read Terms & Conditions here. By enrolling on this course, you agree that you have read, understand and you agree to these terms.