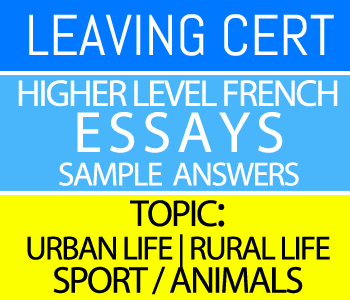 Course Includes
French Higher-Level Leaving Certificate Examination SAMPLE ESSAY ANSWER COURSE
WHAT WILL YOU LEARN?
There are three examination components. In late March or early April, you will sit the oral examination. This exam normally takes 12 minutes, and, worth 100 marks, the oral is allocated 25% of your overall mark.
On the day of the French exam in June, you will be sitting two papers. First, you will do your written paper, worth 220 marks | 55% of the total exam. There are two sections to this paper, the first of which is the Compréhension Écrite worth 120 marks | 30% of the total paper. The second section is the Production Écrite and is worth 100 marks | 25% of the total paper.
The Production Écrite 100 marks | 25% Le Journal intime
How to Improve your French Journal Intime
1.Practice, practice, practice!
Practice using our examples. Think of similar questions and practice writing the answers.
2.Listen, listen, listen!
Our course allows you to improve your standard of Journal Intime while listening to the sample answers as read by a native speaker. This will also pay dividends for the Oral examination and Aural Comprehension – worth a combined 180 marks | 45%.
3.Build your vocabulary – as you listen take notes of new vocabulary.
As our course allows you to quickly cover lots of exam material, you will soon see the words, structures and idioms that frequently occur. Make a note of these as you watch, listen and learn.
4.Practice every day.
As with acquiring any new skill, improving your French takes discipline. And practice. Set aside twenty-five minutes every day – in the morning when you first wake up, in bed before you go to sleep at night, during your daily commute (unless you are driving!) to do one of our guided video tasks in French. With some consistent effort each day, you'll soon be a mordure de lecture (bookworm)!
5.Bonus benefit!
While you are watching and reading our videos, you will also hear the text read by a native French speaker. This will really help to hone your pronunciation, helping to im0prove your oral French – worth 25% of your mark, and of course, your listening comprehension, worth a further 20%!
This course will help you to make progress on 75% of your overall French exam.
Bonne lecture!
COURSE CONTENT:
We have provided notes and videos for 30 possible questions!
MOBILE ACCESS
Course is designed to be accessible on most recent IOS & Android mobile devices, laptops and PCs. For more information please read Terms & Conditions.
TERMS OF USE
Please read Terms & Conditions here. By enrolling on this course, you agree that you have read, understand and you agree to these terms.
Course Content