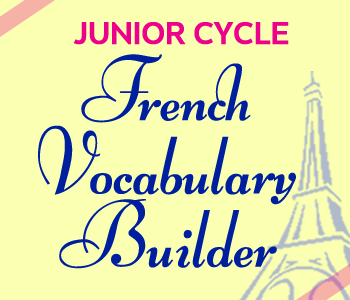 Course Includes
JUNIOR CYCLE FRENCH VOCABULARY Our Junior Cycle French Vocabulary is, simply, the best language learning tool available !
WHAT WILL YOU LEARN?
We have compiled extensive lists of exam-focussed vocabulary on a wide range of topics including:
· Animals
· Appearance
· Buildings
· Clothes
· Colours
· Conjunctions
· Days, Months and Seasons
· Directions
· Expressions of Quantity
· Family
· Feeling Unwell
· Feelings and Emotions
· Films and TV
· Food and Drink
· French Names
· French Surnames
· Hobbies
· Means of Transport
· News Reports
· Numbers
· Parts of the Body
· Prepositions
· Recipes
· School
· Shops
· Signs
· Sports
· Telephone Numbers
· Telling the Time
· The Alphabet
· Weather
· Work and Professions
Our video lessons are as engaging as they are easy to follow.
· Vocabulary explained and translated by an experienced French teacher
· Vocabulary pronounced by a native French speaker
· Great study guides created to reinforce learning
· Exercises and exam style questions with solutions to practice key vocab!
How much does this lesson cost?
The first lesson is complimentary for all of our students to let you see what we have lined up for you for the remainder of the academic year.
If I decide to subscribe, what will I get?
Subscribers will receive instant access to all of the materials for this course -65 Examcast videos and accompanying notes to print. Subscription for this academic year ends at midnight, Wednesday, July 31, 2019.
We have recorded the Examcast lessons as if you were sitting in the classroom with us, so don't forget to have your pen and highlighter to hand!
What if I decide to cancel my subscription?
If you decide to cancel your subscription, you will continue to have access to the video lessons that you have paid for.
How much does it cost ?
An annual subscription to this course costs just €145 per annum for access to all 65 videos. Subscribers to this course will also be able to purchase our French Verb Builder at a reduced price of €95 (normally €125).
When are the lessons available to watch?
You have instant access to all videos so you can watch and learn at a time that suits you.
What material will the lessons cover?
Our tense builder has all the information that you need to carry you through Leaving Certificate French, A-level French or undergraduate French studies.
How long will the lessons take?
Each lesson will last between 3 and 12 minutes, depending on the topic covered. You can also pause the lesson if needed, or watch it as many times as you like, whenever you like, once you are online.
Our courses are built by teachers and designed for learners, so our lessons are structured in a logical way that allows you to build your knowledge as you work through our library of Examcast videos.
Will I get notes?
Each lesson will be accompanied by a PDF handout, which you print to use with the Examcast video.
Section 1 | Le Present – 25 lessons.
Section 2 | Section 2 L'Imparfait – 5 lessons
Section 3 | Passé Composé -7 lessons.
Section 4 | Le Futur Simple – 3 lessons
Section 5 | Le Conditionnel – 4 lessons
Section 6 | Le Subjonctif – 3 lessons
Section 7 | Plus Que Parfait – 4 lessons
Section 8 | Le Futur Antérieur – 4 lessons
Section 9 | Le Conditionnel Passé – 4 lessons
Section 10 | Le Passé Simple – 6 lessons
MOBILE ACCESS
Course is designed to be accessible on most recent IOS & Android mobile devices, laptops and PCs. For more information please read Terms & Conditions.
TERMS OF USE
Please read Terms & Conditions here. By enrolling on this course, you agree that you have read, understand and you agree to these terms.