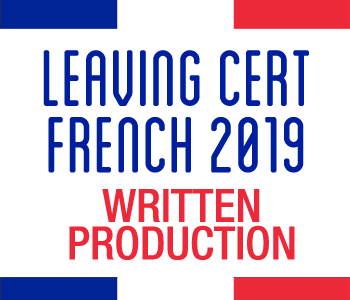 Course Includes
PART 3 – WRITTEN PRODUCTION [WORTH 25% OF OVERALL MARK] LEAVING CERTIFICATE HIGHER LEVEL FRENCH
FRENCH MAY REVISION COURSE
Created and delivered by an experienced teacher, our May French Revision Course offers students the perfect opportunity to focus on examination-based material prior to the Leaving Certificate exams.
In our online lessons, we review likely examination questions and topics to help hone your exam technique and timing.
In addition to our clear and comprehensive videos, students receive a set of detailed, exam-focused study guides. These notes will guide your learning, structure your revision and ensure that you make great use of the study time remaining.
This course is designed to help you prepare for the written section of your French Leaving Certificate higher level paper. 
In this course, you have access to notes and videos on the following topics:
3 sample Journal Intime answers
Sample answer – Climate Change
Sample Answer – Bullying In Schools
Sample Answer – Racism
Sample Answer – Plastic Pollution
Sample Answer – Young People and Religion 
Sample Answer – Celebs
Sample Answer – Gender Inequality 
In addition to your sample answers, we have also included a full explanation of each essay for you!
DOWNLOADABLE PDF
When you buy an Examcast course, you will immediately receive an email containing the download links for your PDF notes.
PDFs are also available from the downloads section under *My Account*.
MOBILE ACCESS
Course is designed to be accessible on most recent IOS & Android mobile devices, laptops and PCs. For more information please read Terms & Conditions.
TERMS OF USE
Please read Terms & Conditions here. By enrolling on this course, you agree that you have read, understand and you agree to these terms.